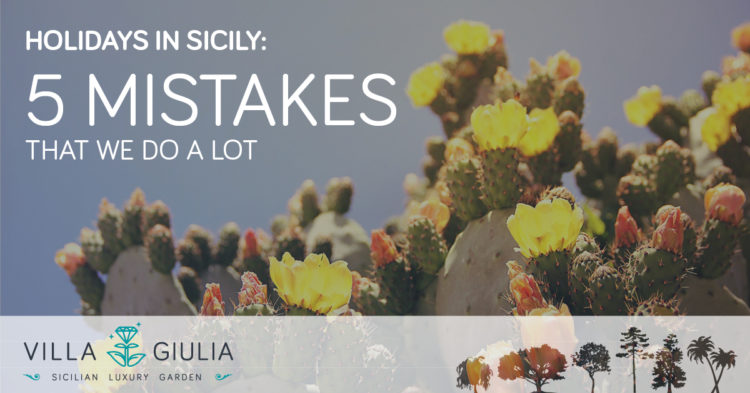 If you come in Sicily for your holidays you need to know that unintentionally you can commit and threaten to spoil everythings.
With this smart guide to 5 mistakes that we do a lot during sicilian holildays you can enjoy 100% our beatiful island.
1. CHOOSE THE MOST CROWED PUBLIC PLACES
Palermo, Taormina, Ragusa Ibla, Siracusa are beautiful cities in the morning, but in the evening becomes really chaotic. That's why you must choose for your stay quieter location.
2. CHOOSE SUMMER SEASON
It's true that during the summer season you can visit all the beautiful beaches and enjoy a good weather, but Sicily is a sun-kissed isle 365 days a year. Weather is simply perfect also during autumn and winter.
3. DO NOT RENT A CAR
Deciding not to rent a car will test your patience. You can take trains or buses, which connect the major cities to one another, but isn't the same thing as having a car, you only spend more time.
4. PLAN YOUR HOLIDAYS IN SICILY JUST FOR A WEEK
One only week is not enought. You just think that with 2 weeks you have to exclude something.
5. HAVE A LUNCH OR A DINNER IN TOURISTIC PLACES
In Sicily you will eat well in every bar, bakery to the restaurant. However, we recommend that you to avoid touristy places (you recognize them: they displayed menus with the same picture of the dishes and the same prices).
Now that you know the 5 mistakes that you often do when you comes to Sicily, we are sure your holiday will be great.
But you know what? It could be perfect if you decide to stay in out Villa surrounded by the garden with a lot of space to so many activities. Also Villa Giulia isin a strategic point to discover Sicily.
Reserve a room in our villa.
Call +39 338 6422642!
Send us an email to info@villagiuliagarden.com!