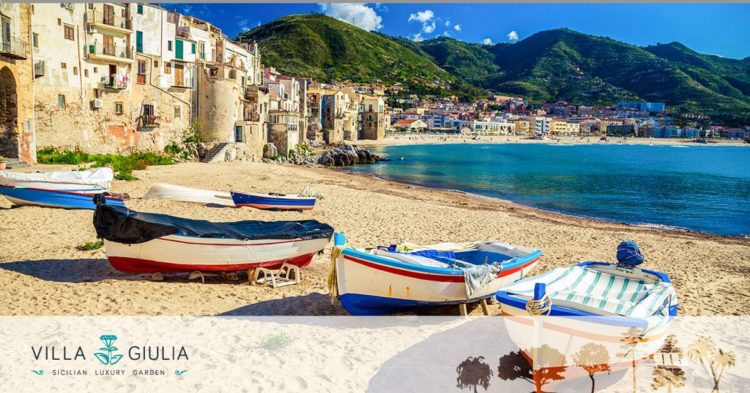 If you have already booked (or you are about to do) your trip to Sicily for this summer, read our tips!
We receive several requests by email almost every day with your requests for advice on Sicily!
What to see, hotels to recommend, restaurants where to eat, what to eat around our main cities, what to buy to friends and relatives etc …
We rarely manage to be exhaustive in a simple email, which is why we decided to include in this article the 5 suggestions to follow if this summer you will come to our sun-kissed land.
– Prepared for roads, streets and stairways
Most Italian cities are full of old cobbled streets. They are incredibly beautiful and is one of the many reasons why you will love the beautiful country even more but, however, your bag will not love the pebbles. This does not mean that you absolutely should not bring a suitcase in Sicily that has wheels, but calculates distances well and if you can take advantage of a taxi to reach your accommodation.
– Start to understand the meaning of the word "covered"
After a dinner I have a lunch most of the time you will see in your receipt a charge ranging from € 1 to € 4 on the bill. Covered is an additional cost in most Italian restaurants for paying the waiter service that served you and for the bread on the table.
– Do not eat near tourist spots
The closer you are to a major tourist attraction, the higher the prices in restaurants and, generally, the worse food. We recommend walking a few streets away from the main attraction to find cheaper but also more authentic food.
– Go in search of the best ice cream parlor and pizzeria
Ice cream and pizza are two must-haves that you do not have to give up and find the best places to taste these two specialties can become difficult. Ask us! We always have 3 or 4 places of the heart around to suggest you to eat the best pizza and the best ice-cream.
– Don't be afraid to cook!
We know that you probably want to come to Italy to eat all the delicious Italian food that prepare the bars and restaurants. However, in many shops you can find fresh pasta, sun-dried tomatoes and lots of other preserves that then, once you get home you can prepare, have fun experimenting.
Did you like these suggestions?
Keep following us! In the next articles of the blog we'll propose others!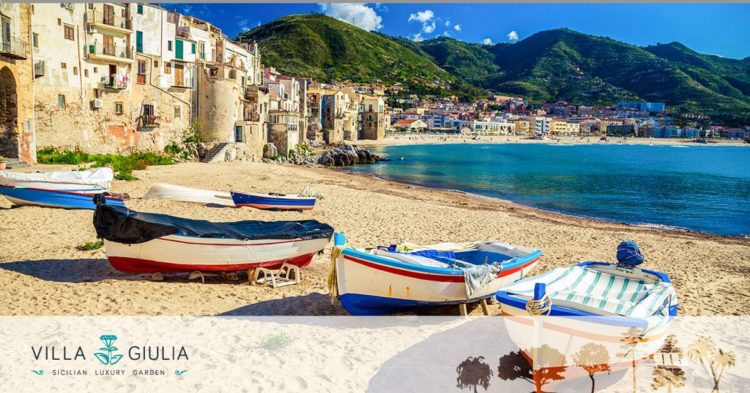 Traveling as couple? Why not?
Here are the best tips if you want to take a couple trip this summer according to Villa Giulia – Sicilian Luxury Garden.
There are things that can only be learned after traveling for a long time as couple. For this reason, we have collected some advice from our guest, friends and parents.
If you are planning a trip as couple, keep reading, they will make your trip more enjoyable!
The first tip is "less is better" when you pack. The old saying "You can only wear one pair of jeans at a time" is extraordinarily true, moreover, your favorite pair of jeans will always be your favorite even when you're traveling. Bring the essential, especially if you want to move from city to city and you can't risk having too much luggage.
Are you looking for adventures? Don't plan everything all right.
Leave the lists from time to time. This is our second suggestion if you travel alone as couple, the pleasure of traveling in two is this: being able to decide freely what you want to do.
Don't be afraid to make new friends because traveling as couple, means getting to know new people. If you are not a very sociable person, our third tip is to throw you sometimes.
There is no right or wrong.
This is our fourth tip. Very often there are experiences that are defined "only for tourists" and that if you are a real traveler you should not do, but it is not always like that. As we said, there is no right or wrong there is only what you want to do and that brings you joy.
Take lots of photos
Very often traveling as couple means having anyone who takes photos. Reviewing those places when you come back home, will be useful to give you back the strength to leave as couple for another adventure.
Our list of tips ends here, but in the coming weeks we will publish many other articles like this that we are sure you will appreciate.
Did you like these tips? We hope you'll find it useful if you decide to travel as couple this summer.
The doors of our villa are open, if you could think of jumping here, we will give you the right tips to visit Sicily, a perfect island for those who love traveling as couple.
Book a room now, they are the last available for the summer season.
Contact us by sending an email to info@villagiuliagarden.com or call us directly at + 39 3386422642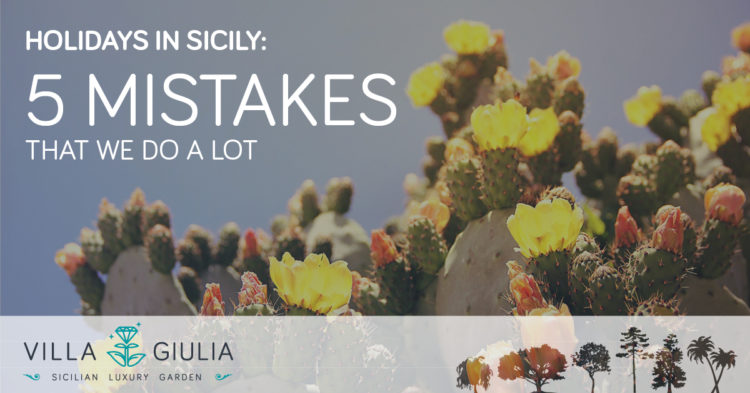 If you come in Sicily for your holidays you need to know that unintentionally you can commit and threaten to spoil everythings.
With this smart guide to 5 mistakes that we do a lot during sicilian holildays you can enjoy 100% our beatiful island.
1. CHOOSE THE MOST CROWED PUBLIC PLACES
Palermo, Taormina, Ragusa Ibla, Siracusa are beautiful cities in the morning, but in the evening becomes really chaotic. That's why you must choose for your stay quieter location.
2. CHOOSE SUMMER SEASON
It's true that during the summer season you can visit all the beautiful beaches and enjoy a good weather, but Sicily is a sun-kissed isle 365 days a year. Weather is simply perfect also during autumn and winter.
3. DO NOT RENT A CAR
Deciding not to rent a car will test your patience. You can take trains or buses, which connect the major cities to one another, but isn't the same thing as having a car, you only spend more time.
4. PLAN YOUR HOLIDAYS IN SICILY JUST FOR A WEEK
One only week is not enought. You just think that with 2 weeks you have to exclude something.
5. HAVE A LUNCH OR A DINNER IN TOURISTIC PLACES
In Sicily you will eat well in every bar, bakery to the restaurant. However, we recommend that you to avoid touristy places (you recognize them: they displayed menus with the same picture of the dishes and the same prices).
Now that you know the 5 mistakes that you often do when you comes to Sicily, we are sure your holiday will be great.
But you know what? It could be perfect if you decide to stay in out Villa surrounded by the garden with a lot of space to so many activities. Also Villa Giulia isin a strategic point to discover Sicily.
Reserve a room in our villa.
Call +39 338 6422642!
Send us an email to info@villagiuliagarden.com!